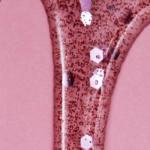 Glitter in nail polishes, yes or no?
18/10/2023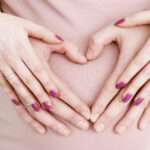 Semipermanent and gel nails in pregnancy: can they be applied?
03/11/2023
How to take care of nails in pregnancy
Taking care of nails during pregnancy affects the overall well-being of mothers-to-be. During this stage of life, the body undergoes many changes, including hormonal changes that can affect the health of the nails: in some women they become shinier and stronger but, in other cases, the opposite happens. Therefore, it is crucial for professional nail technicians to know how to keep the nails of expectant clients strong and healthy.
In this article we delve into how to care for nails during pregnancy, highlighting a number of tricks to put into practice to ensure the safety and comfort of a pregnant client.
1. Booking a manicure
The first way to take care of your nails during pregnancy is to book a manicure from a professional. It often happens that expectant mothers experience a general deterioration in nail health that can manifest itself in:
Nails that break easily or are prone to flaking;
Appearance of small white spots;
Irregular surface of the nail.
By opting for a professional manicure, you can significantly limit the risks of flaking and breakage, giving your nails a healthier and stronger appearance. When it comes to carrying out a treatment for the mother-to-be, it is good for the nail technician to take care to follow certain precautions.
The first step in this direction is to listen to the client's needs. At this stage, it is a good idea to offer a brief consultation before starting treatment so as to understand if any particular pregnancy-related concerns or needs are present. Next, take care to explain how many types of manicures exist and identify the most suitable and safe option for her.
Of paramount importance is the use of sterilized instruments to avoid the risk of infection that can compromise the health of the mother and baby. Cuticle care, cutting and filing of nails should be conducted gently and carefully.
Also not to be underestimated is the choice of products: Lactube is the most suitable product because, thanks to its packaging, contamination is avoided. In addition, the tip that is used to spread the color is dedicated to a specific client, eliminating the risk of transmitting infection.
2. Choose only safe nail polishes
A second element to consider when you want to take care of your nails during pregnancy is the color of the nail polish. On this point it is worth mentioning that the potential risks of manicure for pregnant women given not only by the use of the per se, but also by the risk of inhaling the solvents and harmful volatile substances: so here when dealing with an expectant woman it is essential to make sure that the environment is well ventilated.
If the client wishes to apply nail polish at the end of the manicure, it is essential to use only nail polishes that are free of toxic or hazardous ingredients.
In this step, it uses LACTUBE™: an innovative gel polish naturally free of Toluene, DBP, Formaldehyde, Camphor, Xylene, MEK , TPP, Heavy Metals, Ethyl Tosylamide, acids. LACTUBE™ offers multiple benefits, both to the client and to the treating practitioner:
Ergonomic bioplastic dispenser specially designed to facilitate glaze application;
Controlled-release valve that allows for easy dosing;
precision tip that allows for precise nail polish application without streaks or bubbles.
LACTUBE™, unlike traditional nail polishes, is never contaminated by external agents or previous applications, minimizing the risk of infection for clients who want to care for their nails while pregnant. In addition, the soft bristles ensure gentle and precise application, ideal for a pregnant woman's sensitive nails.
For the maintenance of flawless nails after manicures, we recommend UNIKO™: a tool to keep in the purse that allows the client to make the necessary touch-ups after nail growth. This convenient device encloses gel polish, UV led and file to keep nails tidy longer. Available soon.
3. Keeping a healthy diet
Problems with breaking and flaking nails could be related to nutritional deficiencies. Maintaining a healthy diet during pregnancy is crucial for the overall well-being of the mother-to-be and the baby: proper nutrition, in fact, has a positive influence on the body, including the strength and health of nails consisting mainly of keratin, a filamentous protein. Therefore, it is essential to ensure that you have an adequate supply of essential and sulfur amino acids in your diet.
Essential amino acids are found in optimal amounts in high biological value proteins. Foods rich in these proteins are mainly of animal origin, including eggs, dairy products, meat and seafood. To make sure you get enough essential amino acids from plant sources, you can choose foods such as soy, seaweed, and a combination of various seeds, such as legumes, grains, and pseudocereals.
Sulfur amino acids, in addition to being the essential elements for protein formation, play a crucial function in keratin production. Foods from animals that are particularly rich in it includeegg whites, fish products, and poultry. As for plant sources, the ideal options are:
Spirulina algae;
broccoli;
cereals;
sesame seeds;
pumpkin seeds.
In addition, vitamins and minerals play a crucial role in nail health. Of particular importance among these are vitamins A, B6, C, E, calcium and iron. Vitamins can be found in many foods, both animal and plant-based, and play an essential role in normal metabolic functions.
Calcium is another key nutrient for healthy nails and healthy child development. During pregnancy, the maternal body provides calcium to the fetus for bone development, but it is equally important for the mother. Sources of calcium include dairy products, green leafy vegetables, almonds and sesame seeds.
Finally, iron is essential for oxygen transport in the body and contributes to healthy nails and hair. During pregnancy, iron requirements increase, so it is important to include sources of iron such as lean red meat, beans, lentils, and whole grains in your diet.