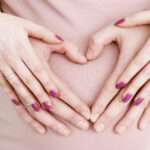 Semipermanent and gel nails in pregnancy: can they be applied?
03/11/2023
3 tips for beautiful and well-groomed nails
Hands are the protagonists of several important gestures: by shaking them we introduce ourselves, seal agreements, and make gestures of tenderness. It is of essential importance, therefore, to know how to take care of them.
Let's explore together 3 ways to have beautiful and well-groomed nails: let's find out why performing a manicure regularly is crucial for the health and aesthetics of your nails, what benefits the application of gels and semi-permanent nail polishes brings, and, finally, why choosing natural products is crucial for the beauty and well-being of your hands.
1. Carry out a manicure regularly
Performing manicures regularly is important not only from an aesthetic point of view, but also to ensure the overall well-being of the nails. Consequently, the first step to an effective nail care routine is definitely to periodically visit a nail salon that can offer a quality manicure.
Specifically, a perfect manicure for hygiene, aesthetics, and nail health must adhere to the following basic steps:
cleaning cuticles and nails, which is essential not only to achieve a nice, well-groomed look, but also to keep nails healthy by reducing the risk of infection and onychomycosis;
choice of the desired shape , to be selected not only according to the client's personal taste, but also according to the shape of her fingers and hands;
nail polish application with Lactube to give nails a sophisticated and refined look and to improve their health due to the micronutrients contained within.
LACTUBE™, a professional nail treatment system, is used in the best salons: the ergonomic handle that resembles that of a pen turns nail polish application into a true work of art. In addition, the handy bottle minimizes the risk of contamination because of the brush that catches everything it encounters on the nails.
But what, concretely, are the benefits of a regular manicure? Periodically visiting a beauty salon involves:
have a well-groomed appearance, thanks to the care of a professional, one's nails will always be clean and tidy, ensuring an elegant and distinguished look;
Improve the health of one's nails through cuticle care and the use of specific products;
Prevent problems such as fungal infections, ingrown, brittle or yellowed nails;
In addition, having regular manicures allows you to experience a moment of pure relaxation, taking care of yourself and relaxing in the capable hands of a professional.
2. Protect them with gel and semipermanent nail polish
One way to always have beautiful and well-groomed nails is to protect them with a gel or semi-permanent nail polish as long as this is done by professionals in the field who can not only choose quality products but also ensure service excellence.
The main advantages of doing gel reconstruction or using semipermanent nail polish are:
durability and strength;
simplicity of maintenance;
Ease of application and removal;
variety of colors and styles.
One of the main advantages of gel and semipermanent nail polish is their prolonged durability. In fact, these solutions guarantee manicured and flawless nails for about a month, without the need for maintenance.
Gel and semipermanent nail polish also have a known resistance to breakage and abrasion. This makes these treatments especially useful for those with brittle nails prone to frequent breakage, such as pregnant women, or those who perform manual labor.
Another strength of gel and semipermanent nail polish is their ease of application and removal. These treatments, barring the onset of special problems, take about an hour and guarantee flawless nails for about a month. In addition, despite their long shelf life, gel and semipermanent nail polish can be removed relatively easily and without causing damage to natural nails, especially when using soak off products.
Finally, protecting one's nails with gel or semi-permanent nail polish allows one to indulge and experiment with different shades, finishes and nail arts, thanks to the incredible variety of colors and styles from which one can choose. Whether it is to have simple but beautiful gel nails, or to have complex and eye-catching nail art, semi-permanent nail polishes such as LACTUBE™ are the ideal choice.
Choose only certified products
Using certified glazes and products brings several benefits to both people and the environment. LACTUBE™, composed of organic materials and with 100% recyclable packaging, offers multiple benefits:
Lower risk of allergies and irritation;
Preserves the health of the nails;
Has a less annoying smell;
respects the environment.
LACTUBE™ certified enamels are free of acids and harsh chemicals such as formaldehyde, toluene, dibutyl phthalate (DBP), Camphor, Xylene, MEK , TPP, Heavy Metals, Ethyl Tosylamide and acids. These substances can cause skin allergies and irritation, as well as being harmful to health. Using LACTUBE™ greatly reduces the risk of unwanted reactions and helps safeguard health.
Certified nail polishes generally contain both kinder and gentler ingredients than traditional ones, as well as beneficial and nutritious substances such as vitamins, mineral oils and plant extracts, which help to preserve nail health.
Another element worth considering concerns the smell of certified nail polishes-these tend to have a less pungent and annoying odor than traditional nail polishes. This results in a more pleasant application for both practitioner and client.
Last but not least, organic products are more sustainable than conventional ones, both in terms of ingredients used and packaging materials. In the case of Lactube, the packaging is made of polyethylene (green PE), a bioplastic of organic origin. Not only is it 100% recyclable, but green PE captures CO2 during its production, rather than putting any in.