Reinforced semipermanent: how to put it on, duration and cost
July 27, 2023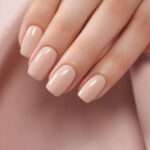 Nail shape: which one to choose
August 29, 2023
Summer nails: the trends of 2023
Summer nails for 2023 feature neutral colors, nude and delicate but also pastel shades: versatile colors that can adapt to different outfits and occasions of use. Gel nails and semipermanent nail polish are the real stars because they offer the possibility of manicures.
Milk white nails
Milky white nails remain a trendy choice for summer 2023, partly because of their versatility of shades and techniques with which they can be made, from simple polish to semi-permanent and gel.
This trend is also appreciated for the possibility of being made with different effects, from glossy to matte: both solutions are perfect for both hand and toe nails and can be the ideal base for decorations with designs and applications.
It should also not be forgotten that summer nails in white can also be declined in the milky alternative, a real must-have for those who want to have tidy hands without looking too eccentric.
Among the highly trendy variations for milky white nails, the baby boomer stands out. This style combines milky white with a pale pink shade, creating a gradient, shaded effect that extends from the base of the nail toward the end. The baby boomer gives nails a fresh, romantic and classy look, making it a popular choice for those who want trendy summer nails.
In addition to different shades of white, it is possible to enhance milk-white nails with additional decorations and details. For example, you can add thin strips of gold or silver color for a touch of elegance, or opt for stones and glitter for a more glittery and glamorous effect.
Unghie estive semplici
Simple nails are an elegant and versatile choice for summer 2023 and, therefore, popular with clients who want to express their personality with fresh and vibrant shades. The minimalist style of on-trend summer nails is perfect for those who want a clean, refined look without sacrificing the beauty of their nails.
During the summer, the different colors available in the LACTUBE™ line offer a wide range of options for matching nail polish shades on hands and feet: for example, bright, vivid ones, such as coral and orange, are perfect for expressing the joy and energy of summer. These cheerful colors can be matched to the hands and feet for a fresh, vibrant look.
At the same time, softer and more delicate shades, such as pastel pink, lilac or beige, are ideal for creating an elegant and sophisticated look. These colorways go well with any outfit and are perfect for more formal occasions or for those who prefer a more understated style.
The application of semipermanent nail polish or reinforced gel is an optimal solution to achieve prolonged durability of simple nails. This type of treatment offers greater resistance than traditional enamel, preventing chipping and maintaining color intensity for a longer period of time.
Unghie fluo per l'estate
Fluorescent nails are an up-and-coming trend that is taking summer 2023 by storm. This vibrant and bold style allows you to express creativity and attract attention with bright, fluorescent colors on your nails.
Fluorescent summer nails can be done in different ways, either by applying color all over the nail or with the French manicure technique. Moreover, these on-trend summer nails also lend themselves to be made using different colors on different nails, resulting in an even more distinctive and recognizable result.
The great versatility of this trend is also reflected in the fact that it suits all nail shapes, whether you do it in the traditional version or the French manicure.
In terms of color application techniques, gel is definitely the option to keep the color bright, with gloss effect for longer.
Regardless of the type of summer nails you wish to achieve, remember to use quality products.