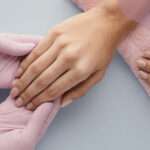 Difference between semipermanent and reinforced semipermanent
July 5, 2023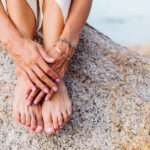 Summer nails: the trends of 2023
August 8, 2023
Reinforced semipermanent: how to put it on, duration and cost
Reinforced semipermanent is a valuable ally for those who have brittle nails but do not want to give up having their hands always in order. Here is how to achieve a perfect manicure with this product, how long it lasts and how much it costs.
Applying reinforced semipermanent with LACTUBE™
Reinforced semipermanent is the perfect middle ground between gel and basic semipermanent: the former product, due to its structure and density has a longer shelf life than the latter, which, given its fluid consistency, has a lower hold and preserves nails less from possible breakage.
In the run-up to summer and beyond, reinforced semipermanent enables the benefits of gel and traditional semipermanent nail polish to be combined. It can be applied as follows:
Nail preparation, removing nail polish, semipermanent or not, if present, and treating cuticles. This preparatory step is essential in order to ensure a long hold of the glaze. Use NAIL PREP, a specific product from the LACTUBE line that modifies the moisture and permeability of the nail, preparing it to receive the semi-permanent treatment;
application of BASE FIBER LACTUBE™, an acid- and solvent-free product capable of making semi-permanent nail polish last for more than 3 weeks. You can spread a thin layer on each nail and let it dry for a few seconds to proceed;
Spread the colored nail polish, applying a thin layer starting at the cuticle and pushing toward the end of the nail. Care must be taken in covering the nail completely, without "painting" the nail bed area. Continue on all nails, keeping in mind that semipermanent nail polishes from the LACTUBE COLOR line cure in a 48w lamp in only 60 seconds;
Polymerize under UV/LED lamp to photoharden. It usually takes only 60 seconds under LED lamp (or 2 minutes under UV (36W), although times may vary and depending on the power of the instrument;
Remove the dispersion layer after curing the nails with LACTUBE's CLEASER ;
Application of top coat to seal and protect the manicure. Allow to dry for the recommended time.
Enamel durability
The durability of semi-permanent nail polish is an essential issue not only for clients, but especially for nail care professionals who need to choose products that ensure good durability without weakening, breaking or damaging the nails. Offering a reinforced semipermanent is in fact a way to be able to retain your clients.
Those looking for products with a long shelf life, the LACTUBE PRO line guarantees excellent durability of more than 21 days: with 42 basic colors and 4 collections per year, these products are ultra-pigmented, opaque on the first pass and remain with a super high-gloss effect. In addition, they are all made with a vegan formulation and suitable for nickel allergy sufferers, as well as being sold in convenient petrol-free packaging demonstrating our concern for people's health and the environment.
Cost of reinforced semipermanent
The cost of applying reinforced semipermanent nail polish is a deciding factor for clients who must decide whether or not to choose your salon. It is critical to keep track of your competitors and market trends, but it is equally important to communicate the value of your work and the quality of the products you use.
Those who opt for the LACTUBE™ line not only have access to a wide range of nail care tools, but can also count on a valuable ally to provide clients with durably flawless hands at a congruous price.
Our range of products dedicated to the B2B sector include references that enable a manicure with long-lasting reinforced semi-permanent nail polish. In addition to the FIBER BASE with which to make small lengthenings, the entire line has a special disposable applicator and an innovative high-intensity formulation that ensures an immediately uniform result.
The cost of the reinforced semipermanent from the LACTUBE line is even more attractive when you consider that this solution also has significant benefits for the client: in addition to a high-intensity result, there is also a reduction in the application time of the -30% and the certainty of using a healthy and hygienic product. In fact, the applicator eliminates the risk of contamination thanks to a special valve that prevents product backflow. The bristles inside the applicator can be easily replaced after each treatment, ensuring a unique and hygienically tested experience at every appointment.
Choose products from the LACTUBE™ line and secure a patented system that reduces the time it takes to apply reinforced semipermanent, streamlining appointments and performing multiple treatments throughout the day.