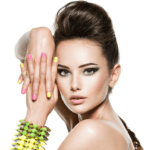 Nail art: techniques and tools
April 11, 2023
How to make a perfect manicure
Doing a perfect manicure to achieve well-groomed, manicured nails is an essential aspect of beauty and personal care, and requires experience and precision.
The secret to a flawless manicure lies in the details and following 3 basic steps for hygiene, aesthetics and nail health:
1. clean cuticles and nails;
2. define the shape you want;
3. spread the glaze precisely with LACTUBE™.
By meticulously performing these steps, it is possible to have a perfect, durable manicure on healthy, strong nails.
Of course, it is crucial to choose quality products, such as those offered by LEB World, to ensure optimal manicure durability.
1. Clean the cuticles
To achieve a well-groomed and sophisticated look, it is important to spend time cleaning the cuticles.
These "pellicles" are essential to protect the growth area of the nail itself, but they can become unsightly. In addition, if not treated properly, they can cause discomfort and pain and even infection.
Therefore, it is essential to remove cuticles by performing dry manicure with ad hoc keratolytic-based cuticle cutters or cuticle removers before applying the semipermanent gel.
Some techniques require a completely different, dry method. This is the case with the dry manicure, which proceeds the removal of cuticles without moistening them and using a small electric cutter.
Thanks to these treatments, problems such as onychomycosis can be prevented, keeping nails healthy, as well as achieving a base for a perfect, elegant and sophisticated manicure with every look.
2. Define the shape you want
A perfect manicure starts with a good definition of the shape you want for your nails.
The choice of shape can affect the overall appearance of the hands and the feeling of confidence when showing them. In addition, the nail cut chosen can affect the strength and durability of the manicure.
There are several nail shapes to choose from, but the most common are:
square;
oval;
almond-shaped;
squoval(a combination of square and oval).
Square nails, with their sharp, precise angles, are perfect for those seeking a clean, professional style, while oval nails, soft and rounded, convey a sense of sweetness and delicacy, ideal for those who want a feminine, romantic look. Almond-shaped ones, which are long and tapered, go with, on the other hand, an elegant and sophisticated style, and, finally, squoval nails, with a shape that combines the length of the almond and the square angle, are a good choice for those who want a balanced and versatile look, with a modern touch.
The choice of cut also depends on the outline of the fingers and hands. For example, short, thick fingers are suited to an oval shape that visually elongates them. On large hands with long fingers, however, you can dare with a squoval.
Once the shape has been decided, work can begin on filing, which should be done with a fine-grained file to be passed through in gentle, continuous movements, maintaining the desired line. Never overdo it with the file so as not to risk weakening them and causing the nail to break.
Only by setting the cut and filing precisely can the foundation be laid for spreading the polish and having a perfect manicure.
3. Spread the glaze precisely with LACTUBE™
Laying polish on nails accurately can be a real challenge. Fortunately, there are professional tools such as LACTUBE™ that can make this operation extremely precise when performed by qualified beauticians.
LACTUBE™ is an innovative device, patented by LEB World, characterized by:
Ergonomic bioplastic softube;
controlled-release valve;
precision tip.
The tube-shaped soft GREEN PE dispenser is designed to help spread UV nail polish precisely, quickly and evenly. Use is very simple: just open the dispensing valve, place it on the tip of the nail and press gently to distribute.
A true innovation in the manicure world, with unparalleled benefits:
uniform application;
Reduced drying time;
accuracy;
hygiene;
Ease of use;
ergonomic;
product savings;
ecological.
LACTUBE™spreads UV nail polish with interchangeable bristles available in various shapes and materials that adapt to the shape of the nail, allowing even the most difficult areas such as corners or cuticles to be easily reached. Most importantly, it prevents smearing of the glaze, which it distributes without generating streaks or bubbles.
Unlike traditional glazes, this product is never contaminated by external agents or previous applications, ensuring maximum hygiene.
Easy to use, it takes only seconds to dispense the glaze and, thanks to its ergonomic shape, is easy and pleasant to hold and maneuver.
Finally, LACTUBE™ is entirely sustainable. It avoids product waste and is easily washed off, ready for the next use, protecting nature and optimizing spending.
In the nail technician's manicure kit, LACTUBE™ is more than just a device for applying polish-it can also be used to create custom shades and decorations on nails, making it a must-have tool for those who like to experiment with their nail art.