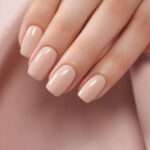 Nail shape: which one to choose
August 29, 2023
Gel nails: how to apply it, duration and cost
Nail builder gel is a popular choice for achieving long, strong and flawless nails. This is a versatile treatment that offers many advantages over other nail enhancement techniques as long as it is performed by a trained nail technician. So let's see what happens when you go to a professional, how long the treatment lasts, and the cost to be incurred.
Applying gel nails with LACTUBE™
Nail gelapplication is a treatment that requires technical skills and experience-it can rarely be performed independently and achieve the results that a specialized nail technician can ensure.
To understand how a nail gel application meeting is conducted, it is worth keeping in mind that nail technicians are experts in nail care and decoration, and thus offer targeted and customized treatments to improve the appearance and health of nails. When an appointment is made, the meeting is conducted as follows:
considerations about the starting situation and health status of the nails and hands in general. This stage is very important because it allows careful assessments to be made regarding the final effect, especially if the person suffers or has suffered from onychophagia for long periods. In fact, if the nails are very short or particularly weak, the nail technician may suggest a treatment with modest lengthening aimed at healing and regenerating the nails;
nail preparation, treating cuticles and removing them with the appropriate products;
Use of a base to promote membership;
application of the builder gel through the special tube applicator that makes the treatment even more effective and hygienic, even on nail forms;
UV lamp drying, LACTUBE™ products cure in 48W lamps in just 30 seconds;
application of the desired color, covering and ultra-strong in one pass, from the LACTUBE™ COLOR PRO range;
application of top coat to seal manicure, to be left to dry in lamp;,
removal of the dispersion layer after curing through a special product, LACTUBE™ Cleaner.
Those who choose LACTUBE™ products can enjoy numerous benefits, including:
maximum hygiene, ensured by an innovative formula without acids and solvents and shortly with the addition of selected probiotics as a barrier to infectious agents. Selected microorganisms capable of nourishing the nail microbiome counteract the onset of onychomycosis;
high-intensity result, ensuring an even coverage effect over the entire nail while avoiding transparency in a single pass;
professional handle that allows the nail technician to express all her professionalism. The specific pen-like conformation allows for more dynamic gestures and greater precision of gestures, to optimize product use and reduce waste.
Duration and cost of gel nails
The durability of gel nails can depend on many factors, including the starting condition of the nails, the quality of the materials used, and the expertise of those who use them.
Those who choose LACTUBE™ products can ensure a builder gel that lasts over 21 days with a super high gloss effect, as well as excellent scratch and impact resistance.
On the other hand, regarding theappointment duration, just keep in mind that LACTUBE™ is the only patented system that allows the service time of semi-permanent gel to be kept short: as a result, the client can count on a fast but effective treatment and the nail technician can schedule multiple appointments throughout the day. Time optimization is ensured by a highly pigmented formulation that returns an immediately uniform result.
In addition, LACTUBE™ allows the application of gel nails to be done in less time since the shape, size, and materials of the tube make it particularly easy to handle-all of which results in a 30 percent time saving compared to a regular gel nail appointment.
Finally, with regard to cost, however, the application of nail gel can vary depending on several factors, including geographic region, reputation of the salon, and experience level of the professional. In general, the price for a complete nail gel treatment can range between 30€ and 80€.
When is it not possible to put it on?
There are situations in which it is preferable not to apply gel nails, including:
damaged or weak nails thatcould be further weakened by application and subsequent removal over them;
mycosis or dermatitis that should be treated before applying gel to the nail, which may only irritate or worsen the condition of the infection;
Allergy to gel components that could cause unpleasant reactions;
specific medical conditions, such as circulatory disorders that make it necessary to keep the natural color of the nails clearly visible;
Regardless of the specific conditions that may cause people to desist from applying gel nails, it is important to know how nails remain after gel. In fact, when quality products are used and when they are applied by a trained nail technician, there is no particular risk of weakening the nails.
On the contrary, consider that sometimes gel can have a beneficial and healing effect on nails, especially when using products from the LACTUBE™ line that have a composition innovative: cellulose, silk protein and keratin are contained in the UV gel line and make manicures a true beauty and preventive treatment for nails.